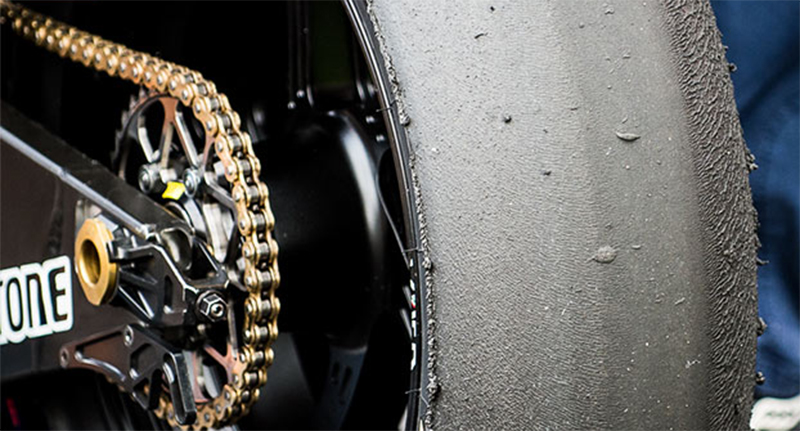 Fitting a slick tire or track tire on our bike definitely looks cooler. Especially when you park your bike next to Starbucks where all the bikers gather on a fine Sunday morning. Even more so when your tire leaves no trace of the chicken strips.
I must admit, I am one of those who think fitting a slick tire on my bike for a Sunday ride looks cool; not knowing how dangerous it is and yes, I am still alive. There is a perfectly good reason why the manufacturer stated clearly on the new tire label that it is for track use and not for road use, although some of it has DOT approval.
The tire isn't just a rubber like what many of us were told since young. It is not a 100% rubber tapped from our rubber estate in Perak. The tire today is made up of an extremely complex combination of chemically made material designed to perform at specific temperatures. The optimum temperature for a street tire is around 74°C to 78°C generally.
For racing tire, you need to achieve 100°C to yield optimal performance. Only at that zone, the tire will increase its adherence to the asphalt. What if I tell you that that is only for a front tire? For the rear tire, it requires at least 120°C. And the bad news it's the bandwidth for a racing tire is relatively small compared to street tire. If your racing tire is not within the narrow bandwidth, it will not be as sticky as you expected. Too cold or too hot, your tire will not stick to the asphalt, the only thing sticking is your face planted on the concrete divider.
So, what is the issue? I ride as fast as MotoGP in Karak! I am on constant 200kph and above. Sorry to say, the racing tire requires constant heat. In the last MotoGP race in 2019, many top riders fell because they thought to save some rubber for the last few laps, but it was a disaster in the end, that few kph shortfalls sees them falling like flies. Marquez has to push the bike to its limits all the time to ensure his tire is at its optimum temperature to have the best grip. Unless you are in the track, chances are you will slow down somewhere and that few seconds is enough to bring down the temperature without you realizing it. A few degrees can have catastrophic consequences.
I hope after reading this, you know the reason why whenever you buy a Bridgestone Battlax V02 / V01, R11, R10; there is a small sticker pasted at the label, Warning! Tires for competition and race only, NOT for highway/street use. That sticker is not for display. If you are riding on the street; to make sure your tire stick to the asphalt, you better stick to RS10, S22 and etc. To know more about the right types of tires, do visit Bridgestone Moto Malaysia Official Facebook Page for more info.